Hydraulic press brake, 2 Axes Hydraulic Press brake
1. Machine Characteristics
The machine is equipped with hydraulic electric control, freely adjustable slider travels and inching, semi-automatic, automatic operating criterion convenient for module trial and adjustment.
Up-move type bending design, pair oil cylinders working simultaneously, balanced operation, convenient, and safety.
With function of keeping pressure and delay time on lower dead spot, to assure the accuracy of work pieces.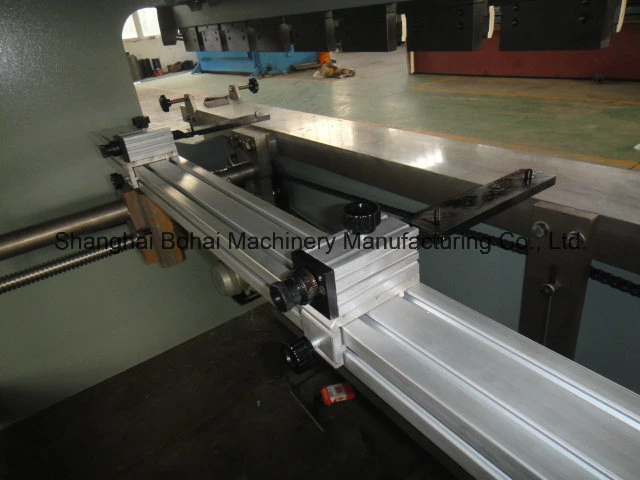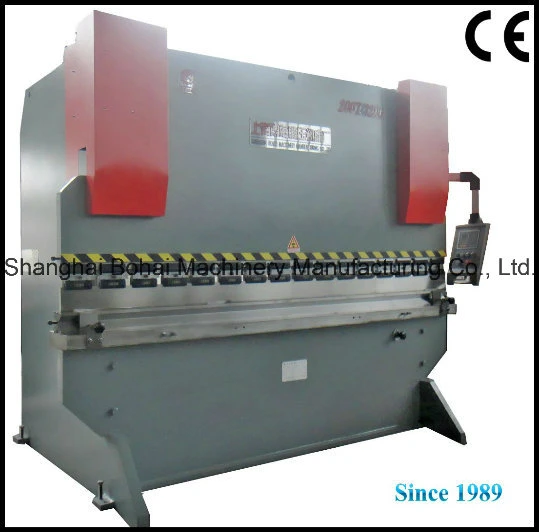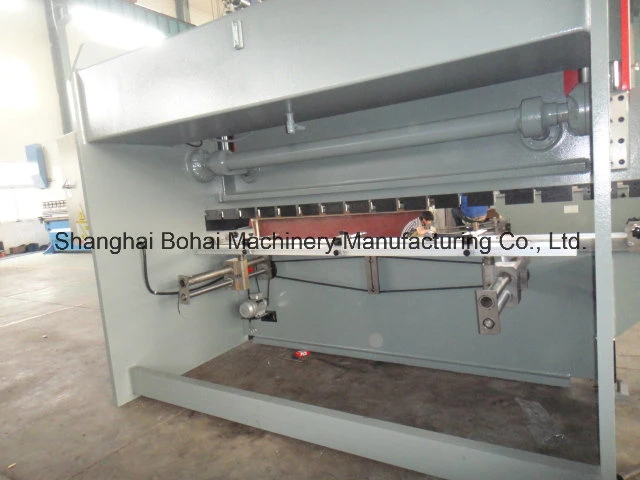 2. Product Superiority
BOHAI hydraulic press brakes are a high quality, heavy duty torsion balanced machine.
BOHAI hydraulic press brakes are manufactured to the highest standards.
Machines come standard with a 2 axis digital readout system.
Welded steel structure, vibratory stress relief, high mechanical strength and good rigidity
Hydraulic transmission provides steady and reliable operation.
3. Product Features
All steel welded construction
A synchronized torsion bar system ensures consistent ram movement.
Front sheet support arms
Standard top & bottom tools
Taper wedge tool clamps
Hand moveable foot pedal control (with emergency stop)
Side safety guards
Rear safety guards (interlock switches)
Overload protection device
Adjustable cams to set the upper position & work speed change point (adjustable travel limit control)
CNC Control Panel (2 axis)
4. Options
Optional Delem CNC control (3 axis + )
Electro-hydraulic Synchronization: ---- 3+ axis
Ram Stroke: Y1, Y2
Back Gauge: X; X-R; X-R-Z1-Z2; X1-X2-Z1-Z2-R; X1-X2-R1-R2-Z1-Z2
Quick release tool clamps
Light guard system or laser safe guarding
Hydraulic crowning system
5. CNC Controller

6. WD67Y Hydraulic Press Brake Technical Data

Model
Normal
force
Worktable
length
Distance Between Housing
Throat Depth
Ram
Stroke
Max.Open
Height
Motor
Dimension
Power
(L x W X H)
KN
MM
MM
MM
MM
MM
Kw
MM
30T/1600
300
1600
1300
220
80
220
3
1600*940*1700
35T/2050
350
2050
1600
220
100
250
4
2050*1050*1850
40T/2200
400
2200
1850
200
100
340
5.5
2260*1250*2060
40T/2500
400
2500
2000
200
100
340
5.5
2560*1250*2060
63T/2500
630
2500
2000
250
125
370
5.5
2560*1280*2260
63T/3200
630
3200
2560
250
125
370
5.5
3260*1280*2420
80T/2500
800
2500
2000
320
140
390
7.5
2560*1500*2400
80T/3200
800
3200
2560
320
140
390
7.5
3260*1500*2400
80T/4000
800
4000
2960
320
140
390
7.5
4060*1500*2400
100T/2500
1000
2500
2000
320
140
390
7.5
2560*150*2450
100T/3200
1000
3200
2560
320
140
390
7.5
3260*1500*2450
100T/4000
1000
4000
2960
320
140
390
7.5
4060*1500*2450
125T/3200
1250
3200
2560
320
125
380
7.5
3200*1500*2450
125T/4000
1250
4000
2960
320
125
380
7.5
4000*1500*2450
160T/3200
1600
3200
2550
320
200
450
11
3260*1500*2480
160T/4000
1600
4000
2950
320
200
450
11
4080*1500*2480
160T/5000
1600
5000
3950
320
200
450
11
5060*1500*2480
200T/3200
2000
3200
2540
320
200
450
15
3200*1500*2480
200T/4000
2000
4000
2940
320
200
450
15
4000*1500*2480
200T/5000
2000
5000
3940
320
200
450
15
5000*1500*2480
250T/4000
2500
4000
2920
400
250
530
18.5
4240*1600*3000
250T/5000
2500
5000
3920
400
250
530
18.5
5240*1600*3000
300T/4000
3000
4000
2920
400
250
530
18.5
4060*1600*3000
300T/5000
3000
5000
3920
400
250
530
18.5
5000*1600*3000
300T/6000
3000
6000
4920
400
250
530
18.5
6000*1600*3000
400T/4000
4000
4000
2920
400
300
560
22
4000*2180*3800
400T/5000
4000
5000
3920
400
300
560
22
5000*2180*3800
400T/6000
4000
6000
4700
400
320
630
30
6060*2220*3980
500T/6000
5000
6000
4600
500
320
700
30
6080*2760*4000
800T/6000
8000
6000
4600
500
400
900
37
6100*3250*4300
Note: All above mentioned data are subject to Change without notification