Product Description
1. Hydraulic system:
- Adopt integrated hydraulic control system, more reliable
- Consist of motor, oil pump and valve groups
- Be installed at the top of the oil box, which can assure that the cylinder is always full of oil when the slide is moving down at high speed
- Complete working cycle can be realized through the control of hydraulic valve.
- The working pressure at the right side of the wall board can be adjusted by the remote adjustment valve
2. Protective fence and the safety interlock:
- Protective fence and the safety interlocker to ensure the operation safety. Power supply switch that is set in the electric box will be automatically turned off when the box's door is opened or the fence is turned up. Protecting barrier with safety interlocker is mounted on the back of the machine. Another, there are travel limit protection and foot pedestal mounted emergency off switch.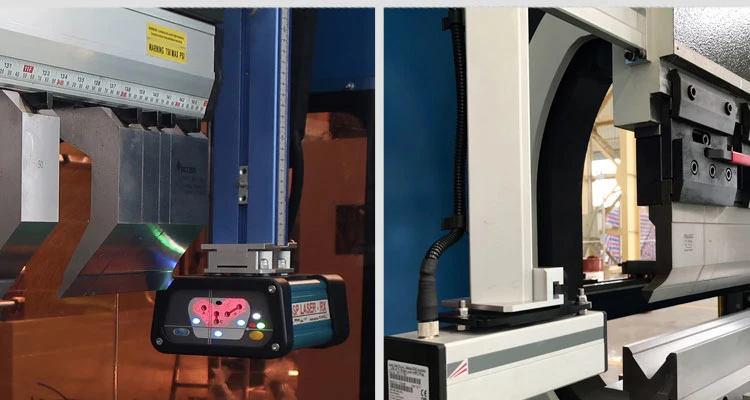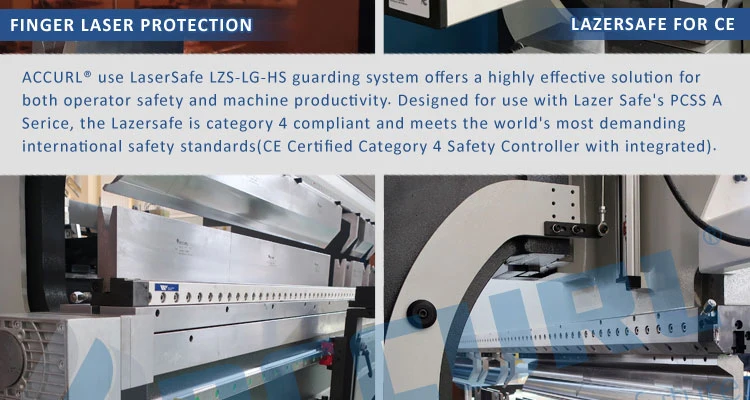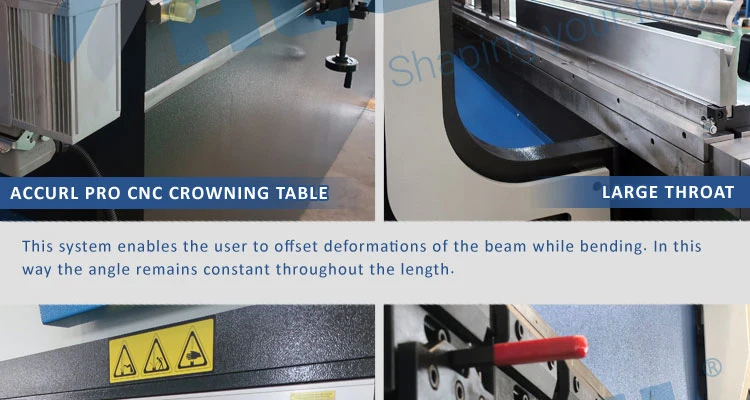 3. Synchro control system:
- Slide syncho system: Adopt steel torsion bar synchro system, simple in structure and high in accuracy
- 2 ends of slide has 2 synchro fork which make, The system uses upper die compensation to improve the brake precision.
- Adopt upper die compensation to improve the brake precision
4. Sectional RAM Clamp Bars:
-Separate sectional clamping bars are supplied as standard equipment in order to securely fasten short dies, as well as standard length tooling. Unique crown correcting device is standard.
5. Advance technology and procedures:
- This metal machining tool is a kind of steel torsion bar synchro press brake. -Electronic control of back gauges and RAM stroke, data displayed and manual setting
- Process of cylinder and sealing component:
Cylinder: No. 45# steel treated, inner holes fine machined and extruded.
Valve rods: No. 45# steel treated, nickel and phosphorous coated outside.
Model
(WC67Y)
Nominal Pressure (kN)
Length of table (mm)
Distance Between Housing (mm)
Throat Depth (mm)
Stroke (mm)
Open Hight (mm)
Main Motor (kW)
Dimensions
(L x W x H) (mm)
weight (T)
40/2000
400
2000
1600
200
110
335
4
2545x1510x2050
3
40/2500
400
2500
2000
200
110
335
4
2950x1510x2080
3.5
63/2000
630
2000
1600
250
110
350
5.5
2555x1600x2130
3.8
63/2500
630
2500
2000
250
110
350
5.5
2960x1600x2180
4.2
63/3200
630
3200
2600
250
110
350
5.5
3740x1600x2230
5.2
100/2500
1000
2500
2000
350
150
400
7.5
2980x1650x2330
6.3
100/3200
1000
3200
2600
350
150
400
7.5
3740x1650x2355
7
100/4000
1000
4000
3200
350
150
400
7.5
4550x1650x2450
8.8
100/5000
1000
5000
4000
350
150
400
7.5
5100x1500x2650
11.8
125/2500
1250
2500
2000
350
150
410
7.5
3980x1650x2370
7.5
125/3200
1250
3200
2600
350
150
410
7.5
3750x1650x2450
8.2
125/4000
1250
4000
3200
350
150
410
7.5
4550x1650x2470
9
125/5000
1250
5000
4000
350
150
410
7.5
5100x1500x2795
11.5
125/6000
1250
6000
4500
350
150
410
7.5
6100x1500x2895
14
160/2500
1600
2500
2000
350
150
425
11
2980x1715x2410
8.5
160/3200
1600
3200
2550
350
150
425
11
3750x1715x2450
11
160/4000
1600
4000
3200
350
190
450
11
4550x1715x2730
12
160/5000
1600
5000
4000
350
190
450
11
5100x1570x2900
15.5
160/6000
1600
6000
4500
350
190
450
11
6100x1570x3010
19
200/3200
2000
3200
2600
350
240
460
11
3750x1815x2715
13
200/4000
2000
4000
3200
350
240
460
11
4550x1815x2850
14
200/5000
2000
5000
3800
350
240
460
11
5100x1715x3020
18.5
200/6000
2000
6000
4500
350
240
460
11
6100x1715x3120
21
250/3200
2500
3200
2600
400
240
525
11
3750x2010x2850
15.5
250/4000
2500
4000
3200
400
240
525
11
4550x2010x3010
17
250/5000
2500
5000
3800
400
240
525
11
5100x1890x3190
21.5
250/6000
2500
6000
4500
400
240
525
11
6100x1890x3350
28
300/3200
3000
3200
2600
400
250
545
15
3740x2100x3235
19.5
300/4000
3000
4000
3200
400
250
545
15
4340x2100x3300
22
300/5000
3000
5000
3800
400
250
545
15
5100x2100x3430
26
300/6000
3000
6000
4500
400
250
545
15
6100x2100x3490
29