C67Y Series Hydraulic Brake Bender Sheet Metal Press Break with High Quality
The main performance characteristics:
1. Adopt all steel welded structure, with sufficient strength and rigidity.
2. Hydraulic drive, the cylinder at both ends of the machine is placed on the slider, the direct drive sliding work.
3. Sliding block synchronization mechanism is forced to synchronize with the torsion axis.
4. Mechanical block mechanism, stable and reliable.
5. Slider stroke, rapid adjustment, manual adjustment, counter display.
6. Oblique wedge type bending compensation mechanism, in order to ensure the higher bending precision.
Application:
This equipment is the main processing machinery spare parts, in Car, ship, etc. of large equipment bring into play important role in the processing, ships and so on. , in addition to the market sales of many bending parts and the equipment production.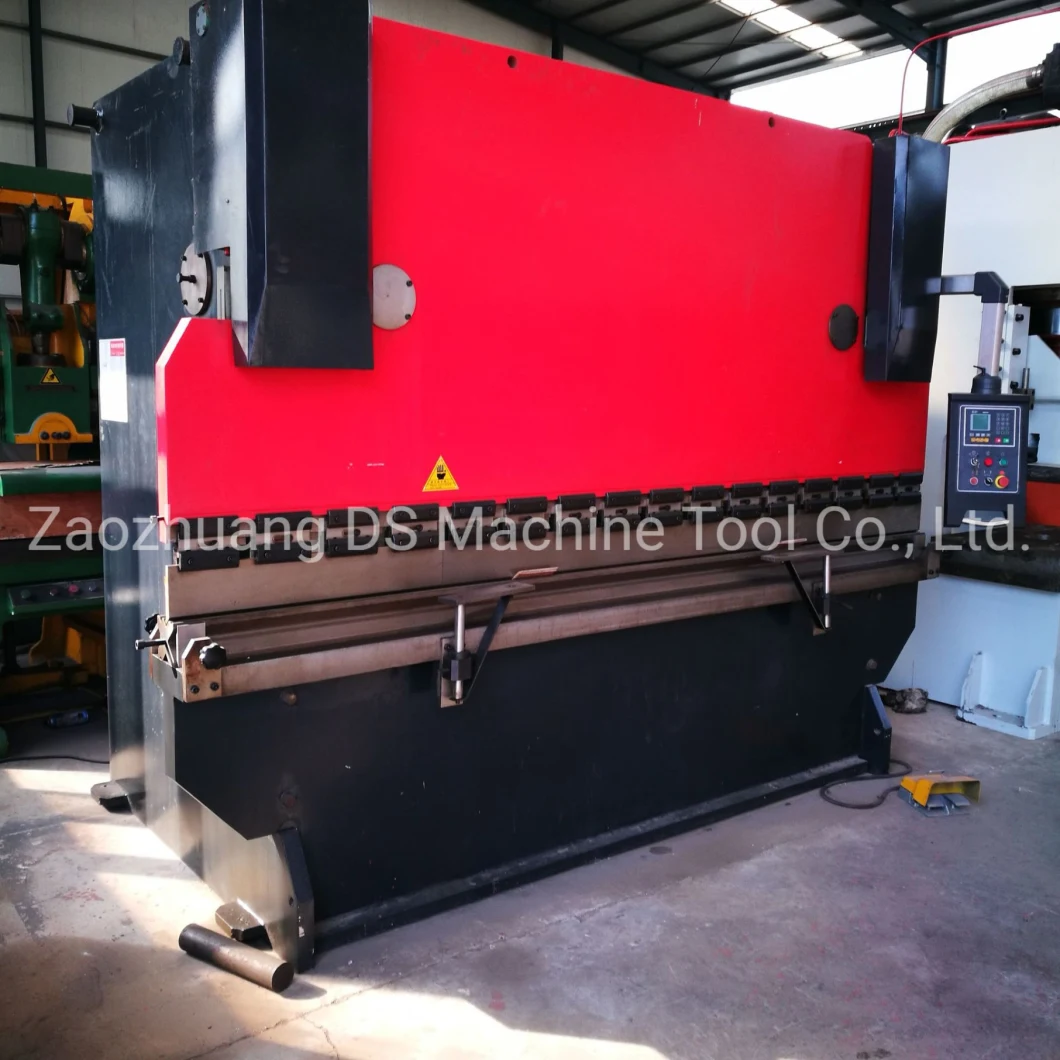 Specification

Nominal Pressure

Length of working table

Distance between uprights

Throat depth

Slide stroke

MAX:

Opening height

Motor power

KN

mm

mm

mm

mm

KW

WC67Y30/1600

300

1600

1280

200

80

285

3

WC67Y35/2000

350

2000

1480

200

80

285

3

WC67Y40/2200

400

2200

1850

300

100

320

4

WC67Y40/2500

400

2500

1850

230

100

320

4

WC67Y50/2500

500

2500

1850

230

100

320

5.5

WC67Y63/2500

630

2500

1900

250

100

320

5.5

WC67Y63/3200

630

3200

2500

250

100

320

5.5

WC67Y80/2500

800

2500

1900

300

100

320

7.5

WC67Y80/3200

800

3200

2500

320

100

350

7.5

WC67Y80/4000

800

4000

3000

320

100

350

5.5

WC67Y100/2500

1000

2500

1900

320

120

320

7.5

WC67Y100/3200

1000

3200

2500

320

120

370

7.5

WC67Y100/4000

1000

4000

3000

320

120

370

7.5

WC67Y125/3200

1250

3200

2500

320

120

370

7.5

WC67Y125/4000

1250

4000

3000

320

120

370

7.5

WC67Y160/3200

1600

3200

2500

320

200

460

11

WC67Y160/4000

1600

4000

3000

320

200

460

11

WC67Y160/5000

1600

5000

4000

320

200

460

11

WC67Y160/6000

1600

6000

5000

320

200

460

11

WC67Y200/3200

2000

3200

2500

320

200

460

11

WC67Y200/4000

2000

4000

3000

320

200

460

11

WC67Y200/5000

2000

5000

4000

320

200

460

11

WC67Y200/6000

2000

6000

5000

320

200

460

11

WC67Y250/3200

2500

3200

2500

400

250

590

18.5

WC67Y250/4000

2500

4000

3000

400

250

590

18.5

WC67Y250/5000

2500

5000

4000

400

250

590

18.5

WC67Y250/6000

2500

6000

5000

400

250

590

18.5

WC67Y300/3200

3000

3200

2530

400

250

590

22

WC67Y300/4000

3000

4000

3000

400

250

590

22

WC67Y300/5000

3000

5000

4000

400

250

590

22

WC67Y300/6000

3000

6000

5000

400

250

590

22

WC67Y400/4000

4000

4000

3000

400

250

590

30

WC67Y400/5000

4000

5000

4000

400

250

590

30

WC67Y400/6000

4000

6000

5000

400

250

590

30

WC67Y500/5000

5000

5000

4000

400

250

590

45

WC67Y500/6000

5000

6000

5000

400

320

590

45

WC67Y600/4000

6000

4000

3000

400

320

590

55

WC67Y600/6000

6000

6000

5000

400

320

590

55

WC67Y8000/6000

8000

6000

5000

400

320

590

55

Description and specifications given in this catalogue are subject to modification without notice