press brake WC67Y-200x3200mm
- All-steel welded structure, vibration relief stress, high machine strength and good rigidity.
-Hydraulic transmission, stepless pressure regulation, high quality imported sealing ring, stable and reliable
- Mechanical stop, torsion axis synchronization, high precision
- Back gauge positioning and slider stroke adjustment, with electric quick adjustment and manual fine adjustment, digital display
- The upper mold is equipped with a winding compensation mechanism. More than 250 tons is the compensation mechanism under the workbench
-The machine is equipped with a safety fence and a door-opening device to improve the safety of the operation.
- equipped with special CNC system for bending machine produced by Delem
-The back gauge X and the slider stroke Y are automatically controlled by the computer.
-The back gauge is made of ordinary screw and precision ball screw.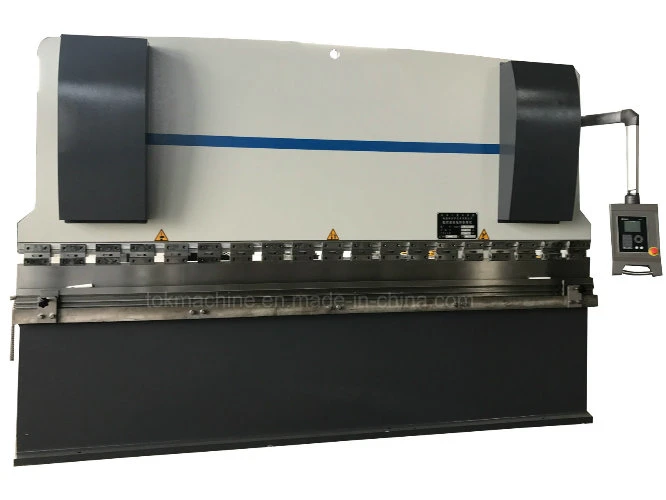 Optional accessory: accuracy 0.015 MM with linear guideway .servo motor, Encoder
DELEM-E21 , Y1 /Y2 axis driven by Encoder.
1) quick release
2) ball screw
3) frequency converter
4) linear guideway



Specification





Nominal




Pressure




Length of




working table




Throat dephts




Ram Stroke




Number of




Stroke

Motor power

KN

mm

mm

mm

m/min-1

KW

WC67Y/K-40/2200

400

2200

200

100

11

4

WC67Y/K-40/2500

400

2500

200

100

11

4

WC67Y/K-50/2500

500

2500

200

100

11

5.5

WC67Y/K-63/2500

630

2500

250

100

10

5.5

WC67Y/K-63/3200

630

3200

250

100

10

5.5

WC67Y/K-80/2500

800

2500

320

150

8

7.5

WC67Y/K-80/3200

800

3200

320

150

8

7.5

WC67Y/K-100/2500

1000

2500

320

150

8

7.5

WC67Y/K-100/3200

1000

3200

320

150

8

7.5

WC67Y/K-100/4000

1000

4000

400

150

8

7.5

WC67Y/K-125/2500

1250

2500

320

150

8

7.5

WC67Y/K-125/3200

1250

3200

320

150

8

7.5

WC67Y/K-125/4000

1250

4000

400

150

8

7.5

WC67Y/K-160/3200

1600

3200

400

180

8

11

WC67Y/K-160/4000

1600

4000

400

180

8

11

WC67Y/K-160/5000

1600

5000

400

180

7

11

WC67Y/K-160/6000

1600

6000

400

200

7

15

WC67Y/K-200/3200

2000

3200

400

200

7

15

WC67Y/K-200/4000

2000

4000

400

200

7

15

WC67Y/K-200/6000

2000

6000

400

200

7

15

WC67Y/K-250/3200

2500

3200

400

200

7

18.5

WC67Y/K-250/4000

2500

4000

400

200

7

18.5

WC67Y/K-250/6000

2500

6000

400

250

7

18.5

WC67Y/K-300/3200

3000

3200

400

250

7

22

WC67Y/K-300/4000

3000

4000

400

250

7

22

WC67Y/K-300/6000

3000

6000

400

250

7

30

WC67Y/K-300/7000

3000

7000

400

250

7

30

WC67Y/K-400/6000

4000

6000

400

250

7

30

WC67Y/K-500/6000

5000

6000

400

300

7

37

WC67Y/K-600/6000

6000

6000

420

300

7

37